CODING GUIDES( PYTHON ONLY):
1. Use of proper variable declaration/initialization according to the naming conventions (camelCase, snake_case, PascalCase )
2. Use of proper function for each module.
3. No PLAGIARISM
4. Write SIMPLE Code with COMMENTS.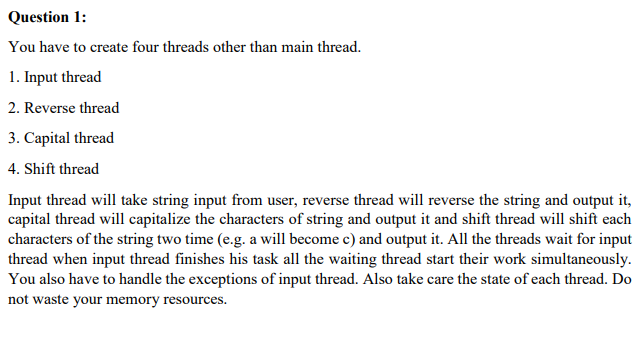 IMPORTANT NOTE:
1) Documentation of each module along with code file.
2) Use of proper function for each module.
3) No PLAGIARISM- CODE SHOULD NOT BE AVAILAIBLE ON OTHER SITES
4) Write SIMPLE CODE WITH COMMENTS AND NOT COPIED CODE.
KINDLY FOLLOW ALL ABOVE INSTRUCTIONS, THANKYOU...
You have to create four threads other than main thread. 1. Input thread 2. Reverse thread 3. Capital thread 4. Shift thread Input thread will take string input from user, reverse thread will reverse the string and output it, capital thread will capitalize the characters of string and output it and shift thread will shift each characters of the string two time (e.g. a will become c) and output it. All the threads wait for input thread when input thread finishes his task all the waiting thread start their work simultaneously. You also have to handle the exceptions of input thread. Also take care the state of each thread. Do not waste your memory resources.